Dr Mikao Usui was born into a wealthy Buddhist family on August 15th, 1865, in Japan. He was a hard-working student whose main interests were medicine, theology and psychology.
After his well-rounded education studying at a Buddhist monastery, Dr Usui married Sadako Suzuki and had two children, Fuji and Toshiko. Dr Usui then went on to travel to China and the West to study healing techniques and various healing systems, in his search to find a hands-on healing method which wouldn't deplete his energy.
Finally, after much travelling and learning, while working in various jobs, such as a reporter, secretary and public servant, he returned to Buddhism and became a Tendai Buddhist monk, in a monastery near Mount Kurama, to continue his studies.
Mount Kurama
It was during this time that Dr Usui went alone to a secluded place on Mount Kurama for training. There, he fasted, meditated, chanted and prayed for 21 days hoping to reach an altered state of consciousness and gain enlightenment.
It is thought that through this practice, which included meditating under a waterfall, his healing abilities were greatly increased. During his last meditation, he was shown ancient Sanskrit symbols and felt great energy enter his crown chakra. After this experience, Dr Usui held the information he had prayed for, to create the system of healing for which he had searched for many years. Dr Usui named this system, Usui Shiki Reiki Ryoho, which means, The Usui system of Reiki healing.
Working tirelessly
Once he knew he could now heal others without depleting his own energy, he established a clinic and worked tirelessly for the next seven years helping the poor people of Kyoto and training others.
After Dr Usui had healed quite a few beggars who then initially went out and began to find work, he noticed a large number of them returned to the street to beg as this was easier. He then realised that it had been a mistake to offer Reiki healing energies for free. Without teaching them anything about the value of responsibility, the beggars had not placed any value on their healing & recovery; an exchange of energy was needed.
Kun San award
Demand for Reiki increased as news travelled of the healing success of Reiki treatments. The Japanese government became aware of Dr Usui's selfless devotion to healing others and bestowed him with a Kun San award, for doing honourable work to help others.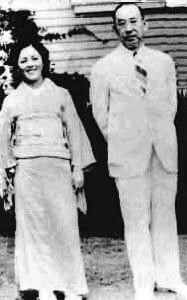 Dr Chujiro Hayashi and Mrs Takata
Dr Usui sadly died on March 9th, 1926. During his lifetime he trained 16 Reiki Masters, one of whom was Dr Chujiro Hayashi, who then went on to teach Mrs Takata, who is credited with bringing Reiki to the West. This guaranteed that Dr Usui's healing system and his powerful healing legacy endures and thrives today.