The Subtle Body – Cyndi Dale
Extensive research has verified that the meridians are transporters of chemical, electrical, and etheric energies.

Just as the meridians are energetic in nature, so are they physical in nature and in influence.

Just as we are physical, so are we energetic.
Our energetic bodies
Our energetic bodies need a constant supply of vital energy to maintain good health and we get this from the food we eat, the air we breathe, the blood running through our veins, our thoughts, feelings and emotions.
Qi, Ki, Prana, Universal energy
This energy is known by many names…In traditional Chinese medicine (TCM) it is known as Qi/Chi, Ki in Japan, Prana in India or Universal energy…to name but a few. Not to confuse things, I'll refer to this wonderful energy as Ki. This invisible energy runs along a network of meridians, or invisible energy channels, and vibrates at a higher rate than our physical body.
Just like arteries, meridians can become clogged, and if left untreated can become fully blocked, affecting the organs connected to them and ultimately the whole body, mind, emotions and spirit.
Ki is made up of two opposing, yet complementary natural forces that cannot separate or exist without each other; yin (female, passive) and yang (male, active).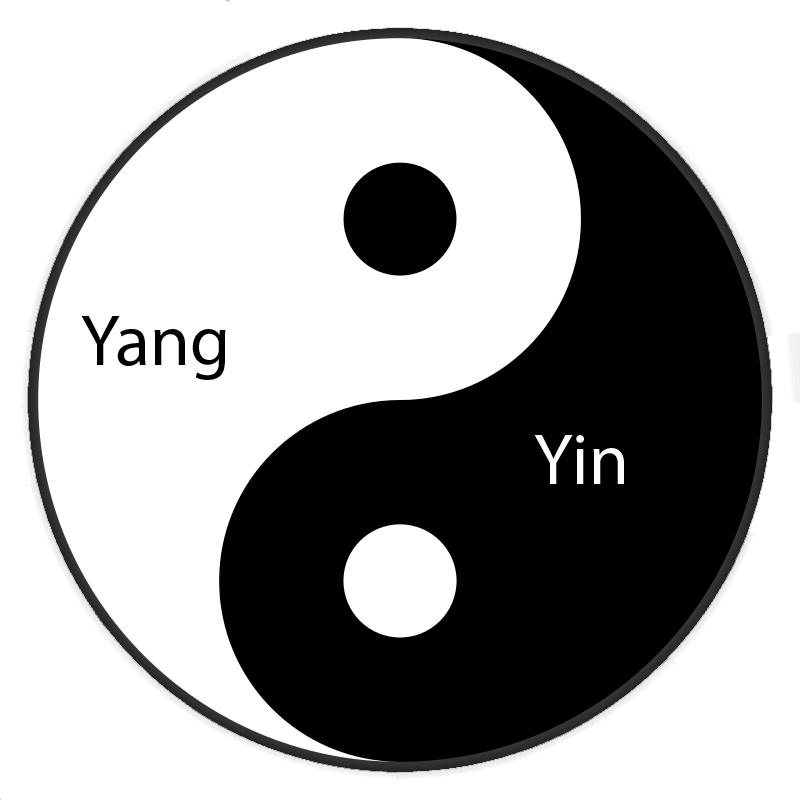 When both yin and yang are in balance our internal systems chug along healthily, but if one force is stronger or weaker than the other this creates an imbalance, which can then manifest into a physical illness.
Below are some issues that could present themselves due to excess or deficient yin or yang according to Traditional Chinese Medicine (TCM).
| | |
| --- | --- |
| YIN EXCESS | YANG EXCESS |
| Sudden pain | Dull aches and pains |
| Inflammation | Chills |
| Spasms | Fluid retention |
| Headaches | Discharges |
| High blood pressure | Tension |
| | |
| --- | --- |
| YIN DEFICIENCY | YANG DEFICIENCY |
| Dryness in mouth or throat | Low energy |
| Dry skin | Pale skin |
| Night sweats | Coated tongue |
| Tinnitus | Feeling cold |
| Dizziness | Poor digestion |
| Exhaustion | Low libido |
| Insomnia | Poor circulation |
Causes of low Ki energy
Poor Ki energy health, or imbalances, can develop in various ways. It can begin as a result of stress or trauma, having persistent negative thoughts and emotions (energy is affected by thoughts and feelings, both good and bad) addictions, lack of exercise or by simply being around negative people who leave you feeling drained and exhausted.
Help yourself, help your Ki
Reiki, acupuncture, qigong and yoga can help to clear energy channels and dissolve blockages gently and naturally. Also, if you protect your energy by grounding and energetically cleansing yourself regularly, you'll be less prone to stagnant energy problems.
How to Protect your energy
One method you can use to protect your energy is by imagining a beautiful white light shield all around you, like an egg shape. State out loud, or in your mind, that nothing may pass this shield but love, light and energy of the highest vibration. This is a nice easy, but effective way, to block and stop your energy from being affected by any outside negative sources.
How to Ground yourself
There are many visualisations on how to Ground yourself. You can find some here…How to Ground yourself.
Balancing the energy of your mind with the energy in your body helps you to be in the present moment, so no matter what is going on around you'll be balanced and unaffected by negative energies.
How to Remove negative energy
I find it's always a lovely little pick-me-up when I cleanse my energy.
If you're interested, try this method, you can do it as often as you like.
When you're having a shower imagine the water cascading down is a brilliant white light which surrounds your body, entering your Crown Chakra, at the very top of your head. 
Then visualise any toxic energy being pushed through your body by this powerful white light and out of each Foot Chakra as a grey sludge until you sense white light emerge. It's is easy as that.
The running water grounds the electromagnetic properties of the energy body and helps restore overall balance.
Meridians
Now for the Meridians, I'm covering the basics here.
Meridian pathways and channels
There are 12 major meridian pathways and 8 extraordinary channels, including the Conception vessel and the Governor vessel and 15 collateral channels.
The 12 major meridians are placed symmetrically on both sides of the body and pair with internal organs. pair with one meridian flowing up (yin) and one flowing down (yang) and these work together to carry out specific functions to support the body as a whole. The 8 extraordinary channels connect the 12 major meridians.
Meridian flow
Stomach meridian
(yang)
flows to
Spleen meridian
(yin)
Heart meridian
(yin)
flows to
Small intestine meridian
(yang)
Bladder meridian
(yang)
flows to
Kidney meridian
(yin)
Pericardium meridian
(yin)
flows to
Triple Burner meridian
(yang)
Gallbladder
(yang)
flows to
Liver meridian
(yin)
Lung meridian
(yin)
flows to
Large intestine meridian
(yang)
The main Meridian channels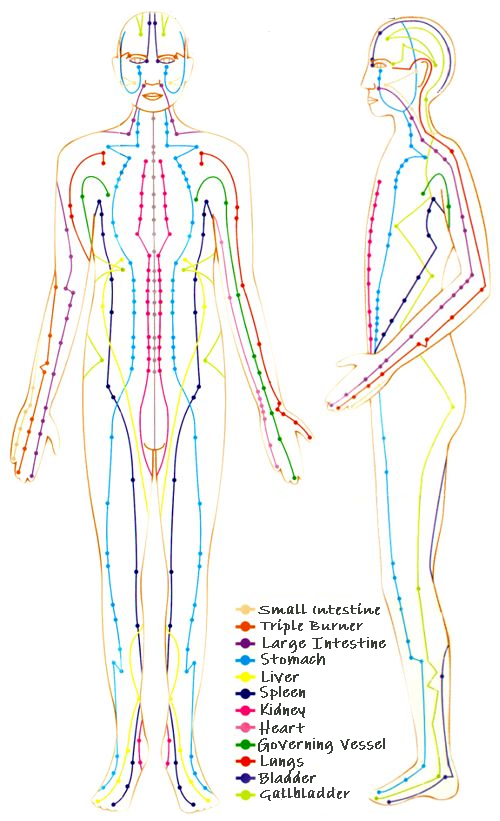 The Meridian clock
The Meridian Clock also known as the Meridian Flow Wheel or Horary Clock follows a daily cycle. During the 24 hours of the day, the flow of Ki peaks in every organ for the same two-hour period. The graphic below shows the time of the day each related body part has its peak energy time. During peak times energy flow increases and the healing of organs in that area is naturally enhanced. If you have a problem or weakness in an area, for example, if you have bladder issues, you might wake up around 1 am to 3 am, the time when liver meridian energy peaks in that organ.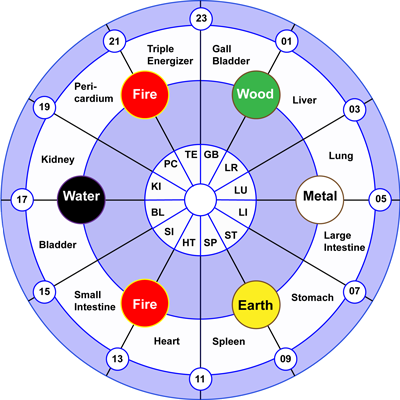 Meridian characteristics
Stomach Meridian (yang) 7am – 9am
Element Earth
Balanced
Loving, open and caring.
Physical Imbalances
Digestive and stomach problems, abdominal pain, abdominal distension, fluid retention, vomiting, sore throat, facial paralysis, nose bleeds, gum problems, toothache.
Emotional Imbalances
A lack of confidence, anxiety, worry, inability to trust.
Spleen Meridian (yin) 9am to 11am
Element Earth
Balanced
Fairness, openness, profound thought, self-esteem.
Physical Imbalances
Problems of the spleen and pancreas, abdominal distension, jaundice, general weakness and sluggishness, tongue problems, vomiting, pain and swellings along the course of the meridian.
Emotional Imbalances
Digestive and stomach problems.
Heart Meridian (yin) 11am to 1pm
Element Fire
Balanced
Peaceful, emotionally balanced, loving, optimistic, spiritual growth. Conscience. Wisdom. Control of thoughts.
Physical Imbalances
Heart problems, dryness of the throat, jaundice, pain along the course of the meridian
Emotional Imbalances
Sadness, depression, fear, anxiety, erratic behaviour, craving love, jealousy and hysteria.
Small Intestine Meridian (yang) 1pm to 3pm
Element Fire
Balanced
Ability to express love and joy. Vitality. Clarity of thought.
Physical Imbalances
Pain in the lower abdomen, sore throat, swelling or paralysis of face, deafness.
Emotional Imbalances
Brain fog, insecurity, forgetfulness, indecision, difficulty in expressing emotions.
Bladder Meridian (yang) 3pm to 5pm
Element Water
Balanced
Forward looking, hopeful, calm and peaceful.
Physical Imbalances
Bladder problems, headache, eye diseases, neck and back problems, pain along the back of the leg
Emotional Imbalances
Lack of energy, feeling fearful, resisting change, inflexibility.
Kidney Meridian (yin) 5pm to 7pm
Element Water
Balanced
Clear perception, gentleness and self-understanding, wisdom and rationality.
Physical Imbalances
Kidney problems, lung problems, dry tongue, lumbago, water retention, constipation, diarrhoea.
Emotional Imbalances
Depression, fear, feeling alone and separate from others, insecurity, hysteria.
Pericardium Meridian (yin) 7pm to 9pm
Element Fire
Balanced
Healthy relationships, happy and joyful.
Physical Imbalances
Poor circulation, angina, palpitation, diseases of the sexual glands and organs, irritability, pain along the course of the meridian.
Emotional Imbalances
Difficulty in expressing emotions and feelings, depression, phobias.
Triple Burner/Warmer Meridian (yang) 9pm to 11pm
Element Fire
Balanced
Kind hearted, stable mind and joyful.
Physical Imbalances
Diseases of the thyroid and adrenal glands, chills and fever, ear problems, sore throat, abdominal distension, water retention, swelling of cheek, pain along the channel.
Emotional Imbalances
Suspicion, anxiety depression, inability to release negative thoughts.
Gallbladder Meridian (yang) 11pm to 1am
Element Wood
Balanced
Good decision making, good judgement. Good sleeping patterns. Creative and courageous.
Physical Imbalances
Gall bladder problems, ear diseases, migraine, hip problems, dizziness, pain along the meridian
Emotional Imbalances
Indecisive, easily discouraged, resentful, timidity.
Liver Meridian (yin) 1am to 3am
Element Wood
Balanced
Generous, kind and compassionate.
Physical Imbalances
Liver problems, lumbago, vomiting, hernia, urination problems, pain in the lower abdomen and along the course of the meridian.
Emotional Imbalances
Lack of drive and ambition. No creativity. Feelings of frustration. Irritable and angry.
Lung Meridian (yin) 3am to 5am
Element Metal
Balanced
High self-esteem, dignity and integrity.
Physical Imbalances
Respiratory diseases, sore throat, cough, common cold, pain in the shoulder and along the meridian
Emotional Imbalances
Excessive pride, narrow mindedness, judgement, intolerance and inability to accept others or their opinions or behaviours. Feeling grief.
Large Intestine Meridian (yang) 5am to 7am
Element Metal
Physical Imbalances
Abdominal pain, constipation, diarrhoea, sore throat, toothache in the lower gum, nasal discharge and bleeding, pain along the course of the meridian
Emotional Imbalances
Sadness, grief and worry. Introversion, depression, apathy and low self-esteem.
So, there you have it, my explanation on the basics of the Meridian system. I hope you enjoyed it.
With love and light,